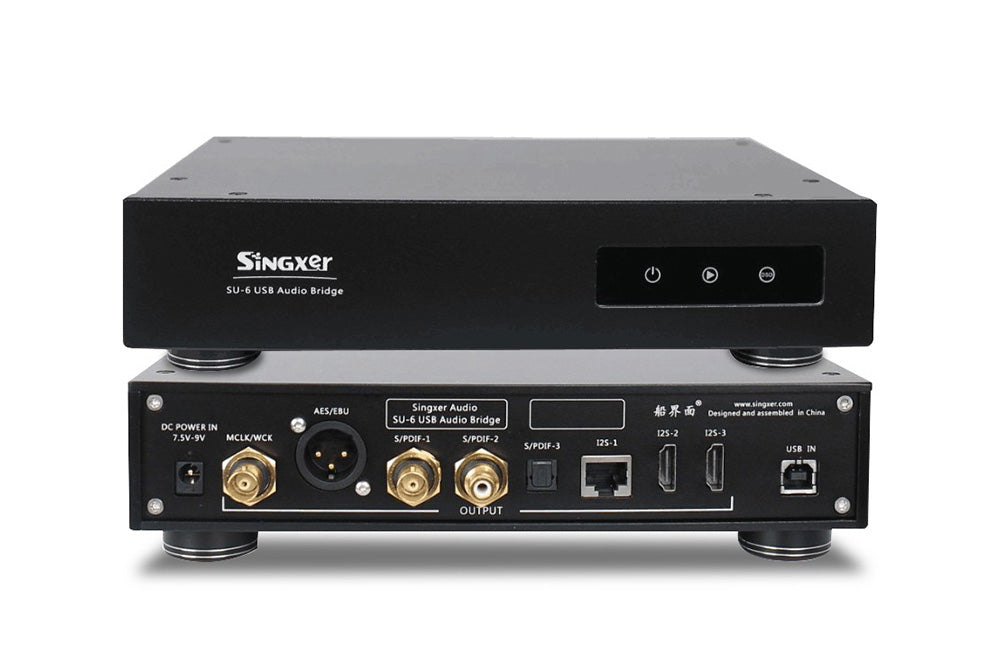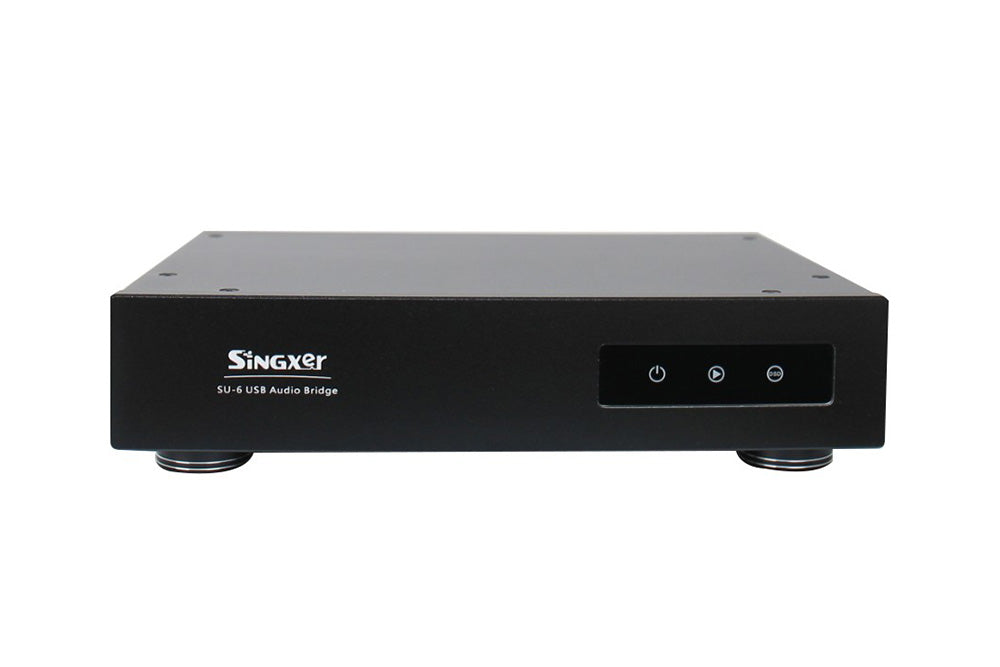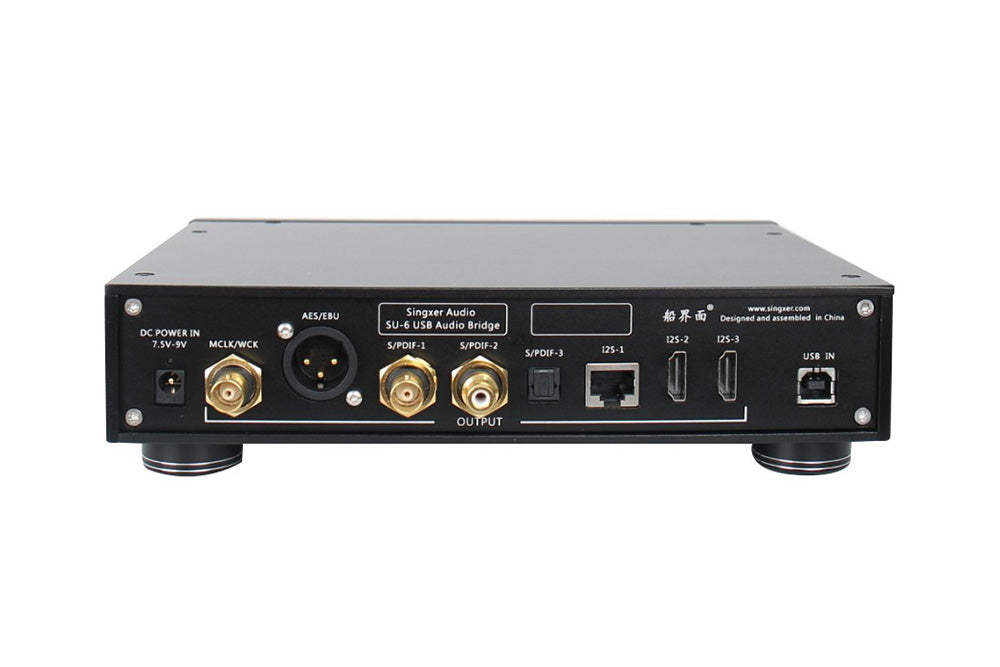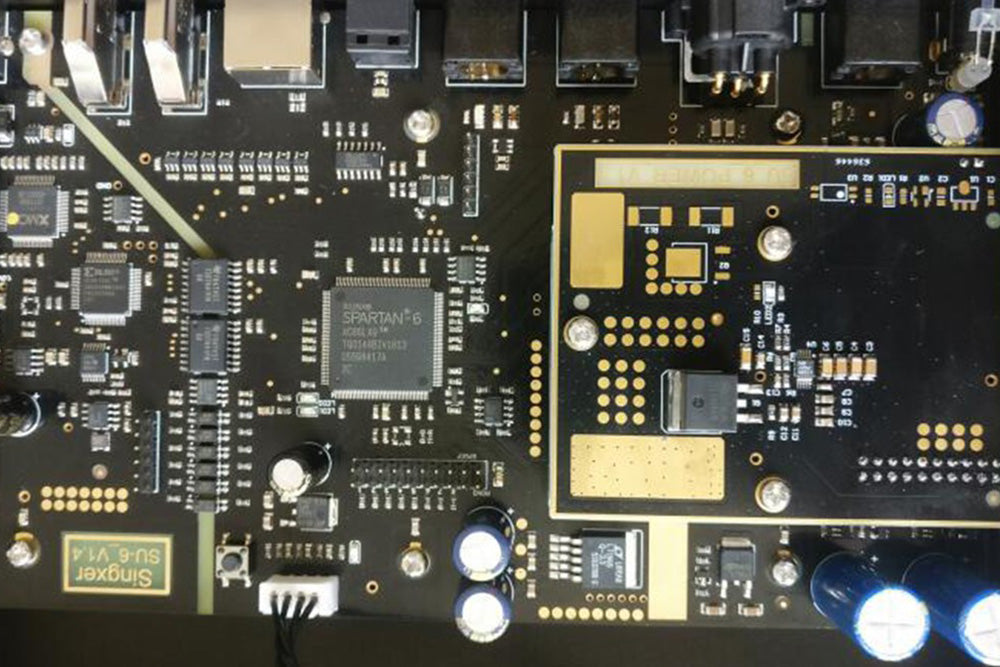 SINGXER SU6 USB Interface
Regular price
$750.00 USD
Sale price
$750.00 USD
Regular price
100% Authentic Guarantee
Lowest Price Guarantee
World Free Shipping & Returns
SINGXER SU6 USB Interface
DESCRIPTION
SHIPPING & RETURN
Product introduction:
The SU-6 digital interface is a new generation of high-performance USB digital audio interface. It uses XMOS' latest xCORE-200 series and Xilinx's high-performance large-scale PGA chip. The SU-6 is a digital interface using a thermostat-level clock system. Crystek's two CCHD-957 femtosecond crystal oscillators provide a solid foundation for the superior audio signal quality of the SU-6 output. The SU-6 digital interface uses a standard USB2.0 input interface, while the SU-6 has a rich output interface, including S/PDI for fiber/coaxial RCA and BNC outputs, AES/EBU for XLR balanced output, RJ45 and HDMI interfaces. Output I2S (including DSD ON signal), clock output supports MCLK main clock and WCLK word clock. The power system design was optimized and the audio section was powered by a 7.5F (7.5 million uf) supercapacitor.

SU-6 is newly developed USB interface, which is positioned at the high-end interface. Compared with previous products, we mainly use the following four new self-developed technologies:

1, built-in CPLD pre-shaping technology, FPGA-based source synchronization technology re-shaping the isolated I2S signal, thus eliminating the additive jitter caused by the isolation chip.

2, the newly designed FPGA algorithm, built-in FIFO buffers the data and then outputs, SPDIF output is re-encoded by FPGA, so that the coaxial output can support PCM 384K and DSD DOP128 at the highest.

3, using CRYSTEK's CCHD-957 high-performance femtosecond crystal oscillator, with the self-developed constant temperature system and ultra-low noise super capacitor power supply system, further improve the short-stability performance of the clock.

4. Original single clock system, all circuits of the whole machine adopt synchronous clock design, in which USB clock is synthesized by PLL derived from femtosecond clock.




Technical indicators:
Sample rate supported by each output interface:
PCM: 44.1KHz, 48KHz, 88.2KHz, 96KHz,176.4KHz, 192KHz, 352.8KHz, 384KHz

DSD: 2.8 MHz (DSD64) - DoP, native
         5.6 MHz (DSD128) - DoP, native
         11.2 MHz (DSD256) - DoP, native
         22.5 MHz (DSD512) - native

Bit width: up to 32 bit over I2S output
Up to 24 bit over S/PDI, AES/EBU



Electrical standards for each interface:
1, USB input socket is a standard USB-B type female socket, USB power supply range is 4.5V-5.1V;
2, DC POWER input socket uses DC2.1 socket, supports 7.5V-9V DC input (for fast charging of super capacitor, power supply requirement is 3A).
3, BNC interface and RCA interface output standard S / PDI signal, the level is 550mV (connected to standard load), the output impedance is 75 ohms;
4, XLR interface output standard AES / EBU signal, the level is 3.3V (connected to standard load), the output impedance is 110 ohms;
5, the word clock (WCLK) output uses BNC interface, the level is TTL (no load), the output impedance is 75 ohms;
The 6, 2 HDMI-I2S signals are output through the HDMI socket. The output four signals include MCLK, BCLK, LRCLK, and SDATA signals. The standard LVDS differential level is used, and the impedance is controlled at 100 ohms. The PIN13-15 of the HDMI socket is the DSD_ON signal, the high level is the I2S working in the DSD mode, the level is LVTTL; the PIN18 is the 5V weak power output (the output current is less than 20ma), which can be used as the interface plug-in indication; 2 output The I2S line sequence is the same.
7, RJ45-I2S output I2S signal is CMOS (5V) single-ended signal, low-impedance output, the output of four signals including MCLK, BCLK, LRCLK, SDATA signal.
8, the optical fiber port outputs the standard optical signal.




Design details:
1. Implement the design concept of electric power as the mother of sound, pay attention to the design of power circuit, adopt external DC input, built-in super capacitor power supply, with high performance, low noise and fast response LDO. The whole board is powered by up to 6 independent LDOs. The digital audio board is powered by a secondary LDO. The clock part even uses LT's ultra-low noise LDO, which lays a solid foundation for ensuring the ultimate performance of the output.
2, in order to ensure excellent electrical transmission performance, XLR sockets are made of Swiss Neutrik products, USB-B sockets are made of TE, and enthusiast BNC and RCA coaxial sockets are made for Taiwanese manufacturers. Even the fuses are selected from the United States. Litteluse model.
3. The audio board is designed with a 4-layer board to ensure a complete ground plane and power plane. High-speed digital design is used to ensure signal integrity and power integrity of the board. Special processing of the clock signal, using packet design and accurate impedance control, to ensure the signal quality of the clock and improve its anti-interference ability.
4, input and output signals are in accordance with the standard design, especially the USB high-speed signal uses 90 ohm impedance control, also built-in anti-static TVS protection circuit; I2S signal uses LVDS differential level standard, impedance control is 100 ohms, 4 outputs are used A separate LVDS driver.

System compatibility:
1, Windows 7, Windows 8, Windows 10; 32/64 bit, need to install a dedicated driver
2, Native MacOS 10.6 and later, using the system comes with a driver
3, Native Linux with UAC2 compliant kernel, using the system's own driver, (tested on Ubuntu and Daphile systems, based on INTEL X86 platform)
4, Android OS 4.2 and above, the device needs to support OTG function, in general, the Android 5.0 system is supported by default, and the following 5.0 recommendations are used with a dedicated player.




HDMI -I2S interface output:
1. LVDS differential signal with a level of 3.3V;
2.DSD ON signal, 5V power supply (small current), the internal PGA of the MUTE signal has been processed, and the MUTE signal will not need to be output;
3. The DSD ON signal can be defined by itself. The DSD ON signal can be arbitrarily output to the PIN13, 14, 15, and 16 pins of the socket.
4. The phase of PIN1-3 and PIN7-9 is adjustable, and the user can configure the phase of the two pairs of outputs through one switch.

Flexible I2S and clock configuration:
1. Switch 1-4 corresponds to the PIN13-16 pin of the HDMI socket. When it is pulled to the ON position, it means that the PIN pin has the output function of the DSD_ON signal;
2. Switches 5 and 6 are modes for configuring the clock output:
When the switch 5 is at O, the clock outputs MCLK, and when it is ON, the clock outputs WCK;
Switch 6 configures the frequency of MCLK, which is 22.5792M/24.576M for O and 45.1584M/49.152M for ON.
The configuration of switch 6 is valid for CLK OUT, RJ45-I2S, and HDMI-I2S.
3. The switch 7 can separately set the left and right channels in the DSD mode of the I2S signal.
4. Switch 8 can set the line sequence of BCLK in I2S signal; when O, PIN4 is BCLK+, PIN6 is BCLK-;
5. Switch 9 can set the line sequence of LRCLK in I2S signal; when O, PIN7 is LRCLK+, PIN9 is LRCLK-;
6. Switch 10 can set the line sequence of DATA in I2S signal; when O, PIN1 is DATA+, PIN3 is DATA-;
Note: Coaxial, optical fiber, AES/EBU output is not affected by the above code switch; RJ45-I2S wire sequence is fixed, need to adapt to different interfaces, you need to customize the network cable.

Chassis size and packaging:
The length and width of the chassis: 238MM*170MM*46MM, excluding the height of the feet and the protruding part of the connector behind the chassis.
The weight of a single machine is about 1.6KG.
The length and width of the carton packaging: 350MM*230MM*110MM.
Package weight: about 2.0KG

Accessories:
USB cable*1, power adapter (commonly used, AC100V-240V)*1, power cord*1
Shipping Fees
Worldwide Free Shipping on SHENZHENAUDIO, Please allow 1-3 business days for conduct Quality Control in order to ensure the products quality.


If a customer would like the order reshipped, they'll be charged a reshipment fee. Customers may also be subject to a restocking fee of up to 20 percent of the product cost.
---
Which Couriers To Use?
Given the amount of shipping partners we work with and the vast coverage area we serve, there are likely regions with much longer transit times than others. If you have any feedback, suggestions, or problems with the courier of your shipment, please feel free to submit a support ticket via the "Contact Us" button below.

Our goal is to provide our customers with the best shipping experience possible at a reasonable cost. This is why we constantly negotiate with existing shipping partners for lower rates and actively test new couriers for potential opportunities.
---
PO boxes or APO/FPO
The ability to ship to PO boxes or an APO/FPO address depends on the item's weight. If an item weighs more than 9 pounds, we won't be able to ship to these addresses because of our current courier agreements.

To determine if your order is eligible for shipment to PO boxes or an APO/FPO address, please contact SHENZHENAUDIO Support.
---
Estimated Delivery Time
For customers in the continental United States:
5 to 14 business days from the date of shipping

For customers in Hawaii and Puerto Rico:
2 to 4 weeks from the date of shipping
International customers can expect longer shipping times, depending on the country in which they live:

Canada: 1 to 3 weeks from the date of shipping
Australia, New Zealand, Germany, France, and the UK: 2 to 4 weeks from the date of shipping
Other countries not listed above: 3 to 6 weeks from the date of shipping

Please keep in mind that these are rough estimates and shipments can be delayed due to unforeseen circumstances, like postal strikes or severe weather.

If, for some reason, you don't receive your order within the estimated time frame provided above and suspect that it might be lost in transit, please submit a support ticket from your transactions page and we can look into the order with the courier. Lost-in-transit requests must be submitted to SHENZHENAUDIO Support within 4 months of the date of shipping or before the courier archives the tracking information.
---
Easy 30-Day Return Policy
If you are dissatisfied with your purchase for any reason, you may return it to SHENZHENAUDIO within 30 days of the received date, subject to the conditions and exclusions below.
---
Eligibility Conditions
Please read conditions below. If all conditions are not met, SHENZHENAUDIO reserves the right to refuse the return. All returned items must be in new condition, in their original unaltered box (including an intact UPC code) and must include all packing material, blank warranty cards, manuals and accessories. SHENZHENAUDIO can only refund the original purchase price. Shipping and handling fees are nonrefundable.
---
Defective or Damaged Items
Defective items may be repaired, exchanged or refunded at our discretion for the same model or manufacturer's equivalent model.
---
Exchanges
Depending on where you live, the time it may take for your exchanged product to reach you, may vary. Please allow 3-5 business days for mail-in exchanges to be processed.
---
Refunds & Credits
Once we receive and inspect your item(s), we will credit your account. Please allow 5-7 days for a credit to appear on your account. In most cases, we will issue your refund in the same way you made the original purchase. Please note: we can only refund the original purchase price. Shipping and handling fees are nonrefundable.

You will be responsible for paying for your own shipping costs for returning your item. Shipping costs are non-refundable. If you receive a refund, the cost of return shipping will be deducted from your refund.
---
Shipping
To return your product, you should mail your product to: 4F 405, Building F, No.2 Shangxue Science and Technology North, Bantian Street, Longgang Dist, ShenZhen, 518129 Guangdong, China
If you've done all of this and you still have not received your refund yet, please contact us at support@shenzhenaudio.com.