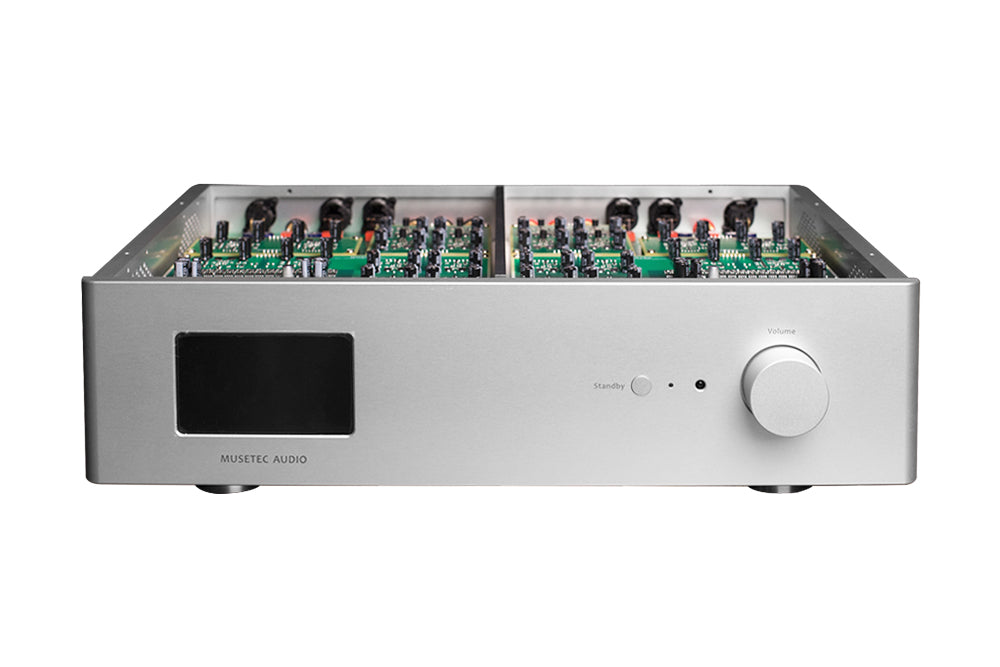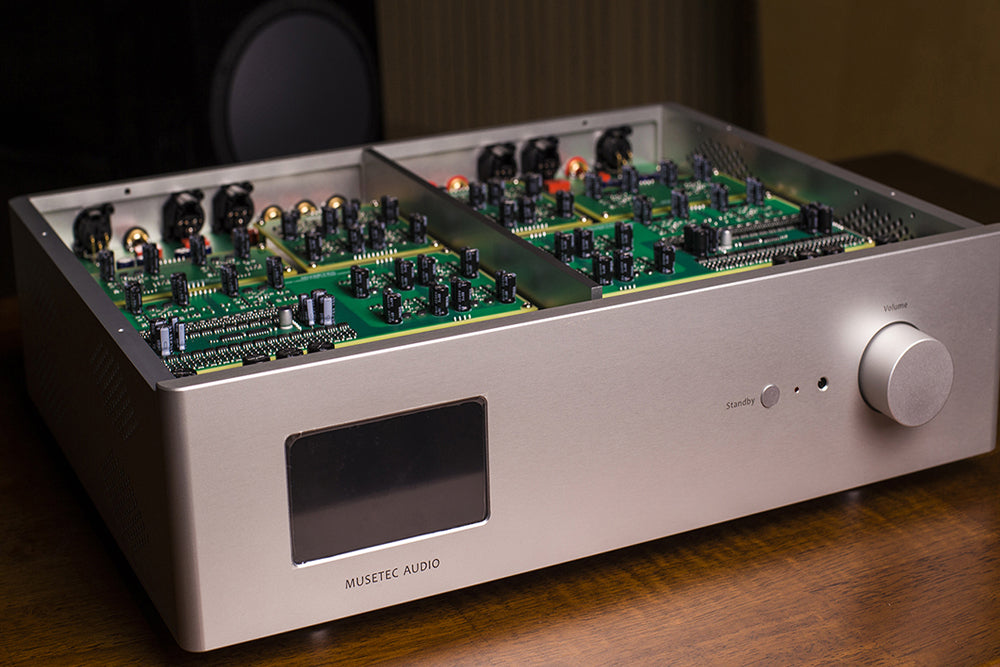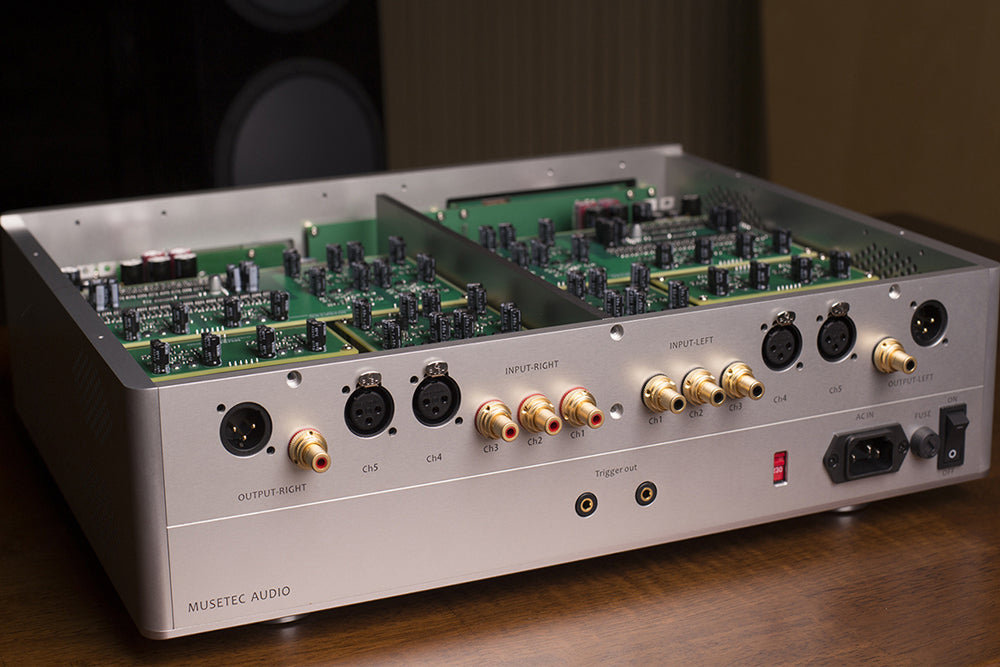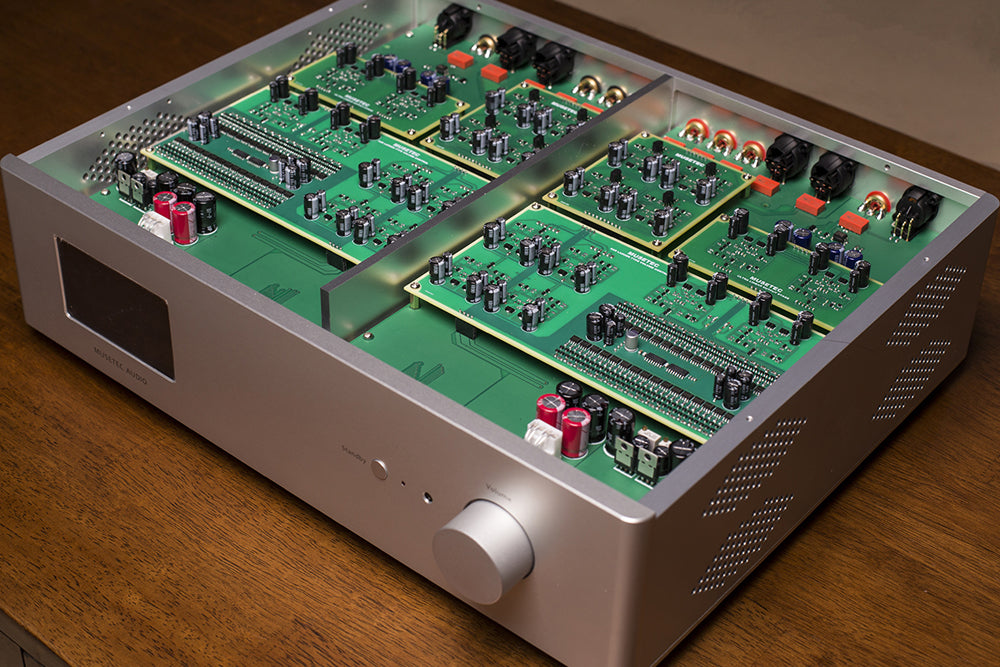 MUSETEC MH SA001 Preamplifier
Regular price
$5,499.00 USD
Sale price
$5,499.00 USD
Regular price
100% Authentic Guarantee
Lowest Price Guarantee
World Free Shipping & Returns
MUSETEC MH SA001 Preamplifier
DESCRIPTION
SHIPPING & RETURN
Features

Separate all circuits of the left and right channels to achieve complete isolation.

Full Class A amplifier circuit design.

Current mode volume control circuit designed with full discrete components.

256 volume steps, commonly used volume areas with 0.25dB resolution.
In a hifi system, the performance of the preamplifier has a crucial impact on the sound reproduction. We have been researching preamplifiers for 8 years to find the sound that satisfies us with our own passion as an audiophile, and the final product is this transistor flagship preamplifier, named MH-SA001.

This preamp with fully self-developed circuitry uses 12 groups of amplifier modules working in Class A state for each channel, and different circuit parameters are set according to the respective functions in the circuit to achieve the best working state. For example, there are matched JFET input modules designed for input signal buffering, constant-current driver modules designed for volume change circuits, and high-current output modules designed for signal output.

It is necessary to explain in particular the volume attenuation circuit, which is an extremely important part that can never be bypassed in a preamplifier. There are a variety of audio volume potentiometers on the market, such as the more common and inexpensive ALPS 16/27 type carbon film potentiometer, medium-priced, such as AN or TKD film potentiometer, high-grade, such as some precision resistor voltage divider type potentiometers, and then high-end, such as Elma, Seiden, Amco and other brands of Attenuator Switches. In general, potentiometers have a huge impact on the sound performance, the reason for this can be attributed mainly to its high impedances of up to tens of kilohms. First, the audio signal passes through the high impedance potentiometer, then into the amplifier circuit. Too high input impedance will affect the working state of the amplifier, then affect the sound.
We have tried to use various types of potentiometers, such as Seiden quadruple switches and 88 AN non-inductive resistors to form a resistive attenuation network, and we used AN silver resistors on the most commonly used gears. This should be our most "high-end" attempt, and can also be considered as some "ultimate" in traditional mechanical potentiometers. We also tried electronic volume chips, such as NJRC's MUSE7232x series. Multiplexed relay-driven resistor network potentiometers have also been used. The above-mentioned solutions, each with its own advantages and disadvantages. The volume potentiometer solution we finally used was inspired by our years experience of DAC development. We used a special modular circuit to convert the input voltage audio signal into a current type signal, and then attenuation the current signal through a constant low-resistance network. By this approach we obtained the "ideal" potentiometer we had been seeking, and we found the sound as we want. The process of implementing this circuit was "difficult and painful".

In addition to the "ideal" potentiometer, we paid extra attention to the power supply. Poor power supply design leads to interference and signal crosstalk, resulting in a loss of sound purity and clarity. So we use 3 power transformers for the left and right channels as well as the control circuit. At the same time, we use isolators to isolate the digital control circuit and the left and right channels, and finally achieve the effect of the left and right channels and control circuit completely independent, no common ground. This completely eliminates the crosstalk between channels, and also eliminates the crosstalk between the digital control circuit and the analog circuit. Although we use a single chassis for this preamp, but the internal is completely independent of the three parts.
We also paid special attention to the selection of power supply decoupling capacitors. We searched through dozens of capacitors for a long time listening, and finally confirmed the right match, different combinations of capacitors will also significantly change the sound. This process requires you to be very patient and to be able to enjoy the premise, otherwise it is basically impossible to complete the task.

Thanks to the above-mentioned pursuit of extreme design, this preamplifier has an extremely full and dense sound in the full range of listening, realistic, natural, high and low frequency extension without compression, balanced energy distribution, outstanding texture, and excellent sense of line. The balanced listening experience is better than my tube preamp which was made at any cost, probably because the tube preamp use a high impedance potentiometer, it is not very natural sound. For me, the sound performance of my tube preamp can not meet my requirements of listening to various types of music. And the new SA001 preamp definitely surpasses my tube pre in very many sound characteristics and meet my requirements.
Shipping Fees
Worldwide Free Shipping on SHENZHENAUDIO, Please allow 1-3 business days for conduct Quality Control in order to ensure the products quality.


If a customer would like the order reshipped, they'll be charged a reshipment fee. Customers may also be subject to a restocking fee of up to 20 percent of the product cost.
---
Which Couriers To Use?
Given the amount of shipping partners we work with and the vast coverage area we serve, there are likely regions with much longer transit times than others. If you have any feedback, suggestions, or problems with the courier of your shipment, please feel free to submit a support ticket via the "Contact Us" button below.

Our goal is to provide our customers with the best shipping experience possible at a reasonable cost. This is why we constantly negotiate with existing shipping partners for lower rates and actively test new couriers for potential opportunities.
---
PO boxes or APO/FPO
The ability to ship to PO boxes or an APO/FPO address depends on the item's weight. If an item weighs more than 9 pounds, we won't be able to ship to these addresses because of our current courier agreements.

To determine if your order is eligible for shipment to PO boxes or an APO/FPO address, please contact SHENZHENAUDIO Support.
---
Estimated Delivery Time
For customers in the continental United States:
5 to 14 business days from the date of shipping

For customers in Hawaii and Puerto Rico:
2 to 4 weeks from the date of shipping
International customers can expect longer shipping times, depending on the country in which they live:

Canada: 1 to 3 weeks from the date of shipping
Australia, New Zealand, Germany, France, and the UK: 2 to 4 weeks from the date of shipping
Other countries not listed above: 3 to 6 weeks from the date of shipping

Please keep in mind that these are rough estimates and shipments can be delayed due to unforeseen circumstances, like postal strikes or severe weather.

If, for some reason, you don't receive your order within the estimated time frame provided above and suspect that it might be lost in transit, please submit a support ticket from your transactions page and we can look into the order with the courier. Lost-in-transit requests must be submitted to SHENZHENAUDIO Support within 4 months of the date of shipping or before the courier archives the tracking information.
---
Easy 30-Day Return Policy
If you are dissatisfied with your purchase for any reason, you may return it to SHENZHENAUDIO within 30 days of the received date, subject to the conditions and exclusions below.
---
Eligibility Conditions
Please read conditions below. If all conditions are not met, SHENZHENAUDIO reserves the right to refuse the return. All returned items must be in new condition, in their original unaltered box (including an intact UPC code) and must include all packing material, blank warranty cards, manuals and accessories. SHENZHENAUDIO can only refund the original purchase price. Shipping and handling fees are nonrefundable.
---
Defective or Damaged Items
Defective items may be repaired, exchanged or refunded at our discretion for the same model or manufacturer's equivalent model.
---
Exchanges
Depending on where you live, the time it may take for your exchanged product to reach you, may vary. Please allow 3-5 business days for mail-in exchanges to be processed.
---
Refunds & Credits
Once we receive and inspect your item(s), we will credit your account. Please allow 5-7 days for a credit to appear on your account. In most cases, we will issue your refund in the same way you made the original purchase. Please note: we can only refund the original purchase price. Shipping and handling fees are nonrefundable.

You will be responsible for paying for your own shipping costs for returning your item. Shipping costs are non-refundable. If you receive a refund, the cost of return shipping will be deducted from your refund.
---
Shipping
To return your product, you should mail your product to: 4F 405, Building F, No.2 Shangxue Science and Technology North, Bantian Street, Longgang Dist, ShenZhen, 518129 Guangdong, China
If you've done all of this and you still have not received your refund yet, please contact us at support@shenzhenaudio.com.
SPECIFICATIONS
Frequency response:-1dB 0.1 Hz~ 200Khz.
Minimum distortion:0.00025%.
5 input ports:RCA*3 andXLR*2.
2 output ports:RCA*1 andXLR* 1.
Support for RCA input to XLR output, or XLR input to RCA output.
Dimensions:width x depth x height 430x380x122mm.
Weight:12.2kg.