News
Gustard X18 MQA Balanced DAC Now Available
by Lauren Young on Dec 06, 2021
Gustard updated its brand-new high performance DAC-X18 with  ESS9038PRO digital-to-analog conversion chip which supports MQA full decoding not only for USB input, the AES, Coaxial and Optical inputs also supported. DAC-X18 is priced at US$749.00, It is available in our store now. Gustard is a China based electronics manufacturer known for making high-quality DDCs , DACs and Amplifiers. It has been researching the audio field for nearly ten years, and its various audio products have been widely recognized by users all over the world. 
This DAC supports full balance, no conversion, complete four-way output. It uses ES9038PRO chip at its heart, which is the flagship series audio DAC chip launched by ESS in the United States. It can achieve the excellent performance of THD+n and DNR. Also it is equipped with independent power supply and grounding, provides the best sound, demonstrating Gustard's purpose that stable and high quality electricity is the source of sound.
Gustard introduces Self-constructed digital integrated circuits with logic functions, clock management, 2nd PLL, digital shaping, DOP decoder, PCM /DSD depop switch and other exclusive technologies in this device, all these have laid a solid foundation for excellent sound quality.
Also the eight independent 1/V converters are built for each channel of the DAC using OPA1612, which provides expert performance with low distortion and low noise. 0.1 % precision resistors are used for key parts to ensure high performance. Two AS318-B Hi-End audio oscillators from Accusilicon, with jitter in fs level.
Wireless techonology is also essential for audio products now, DAC-X18 supports Bluetooth 5.0, APTX HD and LDAC (up to 24Bit/96KHz). And if you do not want to use the Bluetooth function, it can be disabled in menu. Independent regulators with various stages of bypass capacitors can avoid all interference.
DAC-X18 have multi-modes of digital filter and NOS, For PCM: M-FAST /M-SL OW /L-FAST / L-SLOW /H-FAST / APO-FAST / BRICK; For DSD : 47K/50K/60K/ 70K; You could find your best fit. Also with various input and output options, no need to worried that it would not fir your current system set-up. And the power input voltage switchable, you could also use it in different power standard region.
Go along and check more details on the product page here, and the  measurements review of DAC-X18 from Audio Science Review, we will update it accordingly. As always, all the purchasing from us comes with a 30-Day Lowest Price Guarantee, 30-Day No Reason Return, 7 Days DOA Product Guarantee, and Global Free Shipping. You could contact us via live chat online or email us at support@shenzhenaudio.com.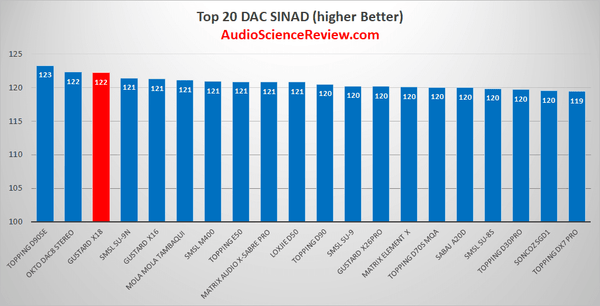 1 comment