News
Shanling M3X Hi-Res Portable Player Preview
by SHENZHEN AUDIO on Feb 03, 2021
Shanling Audio is a company specializing in manufacturing high-quality IEMs and digital audio players. They are going to release the latest Android Hi-res music player, the Shanling M3X. It is built on the same platform as their previous three Android models, like M6, M6 Pro, and M8 Android players. They across different price segments, the M6/M6 Pro covers the mid-fi segment while the M8 is a flagship Android player in the market, the M3X is from the more affordable budget segment. It will be available in March 2021 for US $339.
Shanling M3X is a smart device designed for music. It adopts dual ESS Sabre ES9219 DAC/AMP, with powerful hardware and supporting decoding and enhancement of various audio sources. It can bring powerful thrust (240mW@32Ω) and improve obvious sound effects. Using two of these chips, to offer balanced 4.4mm output interface for better device connection compatibility, better sound and more power. And also including full 16x MQA unfolding, for all fans of the Hi-Res music streaming.
M3X was designed as a scaled-down version of Shanling's flagship M8, to be a more practical and smaller player. A 4.2-inch touch screen is used on the front, the screen resolution is 720*1080, the pixel density reaches 350ppi. Among many lossless players, the M3X stand-alone weight is only 168g, making it 25% smaller and lighter than M6/M6 Pro. And it will stand out with its class-leading battery life, offering up to 23 hours of playback on a single charge.


The biggest upgrade of M3X is the industry's first dual ES9219 DAC chip. Compared with the AK4490, its signal-to-noise ratio is as high as 130db, and the dynamic range is as high as 121db. It supports PCM384kHz/32bit and DSD in DAC mode. Decoding of 256 format audio files. It also supports MQA hardware Renderer, which is the DAC natively supports MQA without relying on other third-party devices that support MQA. When using M3X to listen to the same master tape file, the sound restored by it has a richer amount of information than the general soft-decoding MQA device, and many details that the soft-decoding device can't hear are displayed.
Shanling M3X supports the connection of Bluetooth devices, adopts CSR8675 Bluetooth chip, supports Bluetooth 4.2 high-definition format, supports multiple Bluetooth transmission protocols, including: two-way LDAC, SBC, one-way aptX HD, aptX, LHDC, compatible with most of the current market Bluetooth transmission protocol. At the same time, the player can be used as a Bluetooth DAC, switch the player's Bluetooth to DAC mode, connect to the phone, play files and audio sources in the phone. In addition, in the system settings, there are more playback settings of the connection mode of the player, the rich connection mode can give play to the better compatibility of the player.
Specs
Weight: 168g
Dimensions: 109 x 72 x 15.9 mm
Screen: 4.2-inch touchscreen, 1280*768
System: Open Android 7.1
Hi-Res support: Up to PCM 32/384 & DSD256
DAC/Amp: ESS Sabre ES9219 x2
Gain: low gain / high gain
SNR: 121dB
Output: single ended output (3.5 mm) / balanced output (4.4 mm)
Output power: 101mW@32ohm (3.5 mm) / 240mW@32ohm (4.4 mm)
Frequency response: 20HZ~20KHz (-0.5dB)(4.4mm)
Playback Time: Up to 23hours (SE) / 19 hours (BAL)
Memory: 2GB RAM + 32GB ROM 
External Memory : Support up to 2TB TF card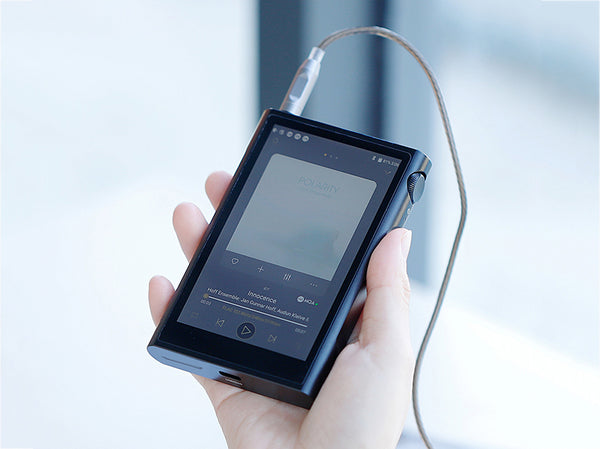 2 comments