News
SMSL SU-6 USB DAC and SH-6 HP AMP Now Available
by Lauren Young on Nov 28, 2021
SMSL has updated their latest mini desktop system line-up, meet the SMSL SU-6 Stereo USB DAC and SH-6 Powerful Headphone Amp, they both come with a brand-new look design and better performance. SU-6 comes with an affordable price at USD$ 169.99, and SH-6 is priced at USD$ 119.99. Also, there are black and silver options for both devices, choose the matching colors or mix-and-match for your desktop system.
SU-6 uses a high-end D/A chip ES9038Q2M from ESS Technology and 2nd generation XMOS solution for USB input which supports DoP256 and native DSD512, and PCM supports up to 32bit/768kHz. All input ports (except Bluetooth) support DSD transmission, coaxial and optical supports DoP64. It is also equipped with Qualcomm's latest Bluetooth chip, LDAC 24bit/96kHz, APTX/HD, SBC, AAC transmission codecs supported.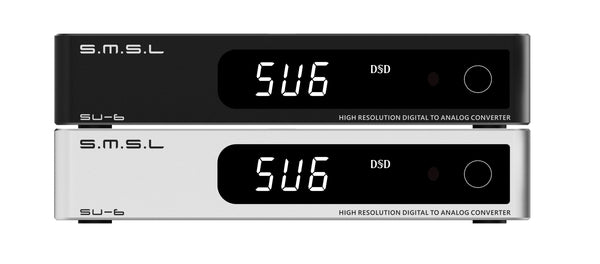 In such a small size system, it has a built-in specially designed low-noise switching power supply while improving power efficiency, lower power consumption, also specially designed discrete component linear regulated power supply and multiple low noise regulated power supplies to provide low noise power for analog circuits. An audio clock processing circuit installed, could greatly reduce the clock jitter. It comes with built-in shielded, low noise power supply processing.
Having DPLL settings like other ESS series products, can adjust the internal DPLL digital phase-locked loop circuit Bandwidth so that the chip achieves a balance between anti-clock jitter and input tolerance. SU-6 is bundled with a full-function remote control that can be used to fully access all the functions of the device. Go along and check more details on the product page, and the measurements of the SMSL SU-6 from ASR.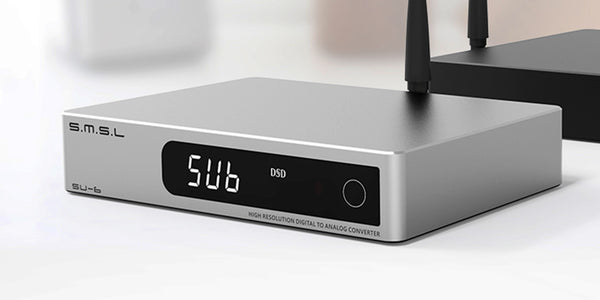 The SMSL SH-6 is a headphone amplifier with an ultra-low distortion precision feedback circuit, which provides ultra-low noise and THD+N.distortion as low as 0.00006%! It features 6.35mm headphone output and RCA Pre-output, choose your favorite IEMs or headphones, and a lovely digital amplifier to connect with this mini-size device. And having high precision low-temperature drift resistance inside the box, its performance is not affected by temperature.
There is a classic toggle switch for two gain settings, high gain for 15.5dB and low gain for 0dB. Featuring a built-in low-noise power supply and high-quality relays in such a small size device, the output noise is as low as 1.3uV, even lEMs will not hear any pop noise. 2.6 Watts at 16Ohm load, 1.3 Watts at 32Ohm load, and a low 134dB SNR.
Check the SU-6 & SH-6 combo here, the price tag at USD$ 289.98, bundled with RCA digital audio cable. As always, all the purchasing from us comes with a 30-Day Lowest Price Guarantee, 30-Day No Reason Return, 7 Days DOA Product Guarantee, and Global Free Shipping. You could contact us via live chat online or email us at support@shenzhenaudio.com.