News
TIPSY TTROMSO Dynamic Driver IEMs Now Available
by Lauren Young on Feb 12, 2022
We are happy to announce that the TIPSY TTROMSO is available in our store now, the 12MM large-diameter dynamic driver unit IEMs restores super-rich sound details, and the distortion rate below 3% ensures the restoration of the sound. It comes with the affordable price tag at US$ 89.00.
The brand TIPSY is China local brand, founded in 2016 and was established under the guidance of the "China Music and Digital Association Music Industry Promotion Working Committee". The members are composed of high-level musicians and artist teams. The brand has many well-known musicians at home and abroad, and the users of TIPSY professional musicians has reached tens of thousands.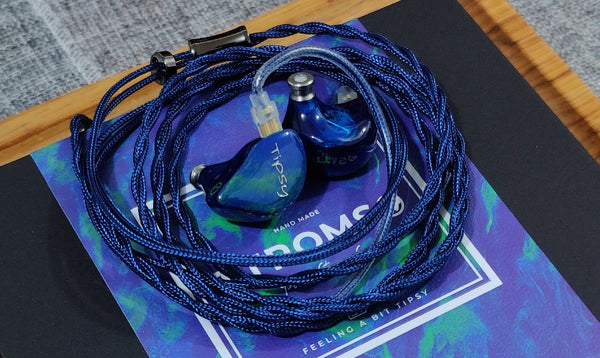 TTROMSO is composed of Tesla magnetic group 12mm LCP liquid crystal diaphragm dynamic driver unit, 3D printed resin cavity, and single crystal copper silver-plated wire.The earphone has a pretty look, and the panel designed by the artist hand-painted is like changing aurora. In the actual test, the author felt that the overall sound of the TTromso is balanced in three frequencies, the vocals are sweet, and the low frequency is full of elasticity.
HRTF is an algorithm for processing head phase and frequency response, and it is one of the most important technologies in future immersive spatial sound effects. The interaction between ears and sound is very complex. To create a more realistic sound experience, the key is to determine the acoustic anatomy of different users and optimize the way we listen to sound. TIPSY uses a large number of private model 3D renderings to analyze and invest in industrial design. , so that the product has a more realistic sound performance

Specifications:
Driver: 12mm liquid crystal diaphragm dynamic driver unit
Cable: 1.2m two-strand 72-core single crystal copper silver-plated high-purity custom cable
Frequency Response : 20Hz - 20000Hz
Impedance: 109 ± 3DB
Sensitivity: 24 ohm
Connector: 0.78 2-Pin
Plug: 3.5mm Gold Plated Jack
Packing list:
Headphones (pair) *1,
72-core single crystal copper silver-plated high-purity custom cable (1.2m) *1,
earphone storage bag*1,
S/M/L silicone sleeve*1,
Cleaning cloth*1)
card case (electronic manual (warranty card)*1 thank you card*1)