News
TOPPING DX3 Pro+ Bluetooth DAC/AMP Available Now
by Lauren Young on Sep 28, 2021
TOPPING has been known for their ridiculously low priced devices, and here's one of them: DX3 Pro+, multifunctional DAC/AMP comes with price tag at 199$, it is an updated version of DX3pro. It can work as a standalone DAC, preamp or a headphone DAC/AMP through Optical, Coaxial USB and Bluetooth inputs. It would be a terrific option if you want a budget, powerful, efficient decoder and headphone amplifier all-in-one option for your HiFi system set-up.
DX3Pro+ uses ES9038QM decoding chip and 2nd generation 8 core XMOS XU208 for USB input.  And it dopts newest QCC5125 chipset to support LDACIAAC protocol, has the certification of Hi-Res Audio Wireless and LDAC. The NFCA circuit in DX3pro+ is optimized for better performance, giving the ultra low noise and distortion. Comapred with the previous LDAC version, DX3pro+ has same funtions but comes with much lower THD+N and higher output power performance.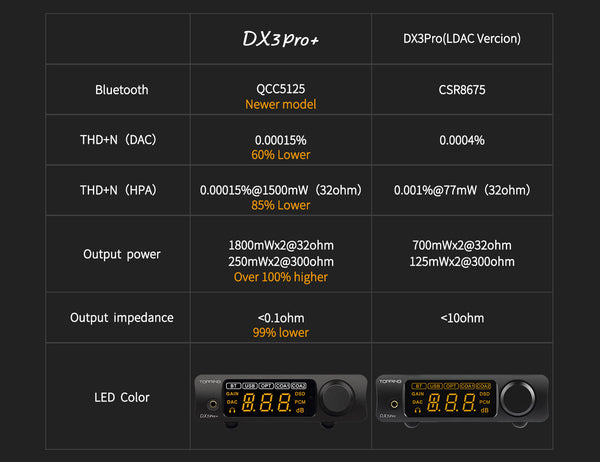 USB input supports up to PCM32bit768kHz and DSD512 native, DX3Pro+ also has a wide range of compatibility as always, Windows 10, MAC, Linux, lOS, Android can be plug and play. Even in the face of higher-end ASIO applications, DX3Pro+ can do a good job: MAC drive free, Win10 with customized Thesycon ASIO driver, go ahead with plugging and playing, turn your PC into a briliant HIFI source.
Adapt to different usage scenarios, DX3Pro+ has 4 output modes: Headphone Amp, Headphone Amp+Line out, DAC, and Pre-amplifier. TOPPING optimized the NFCA (Nested Feedback Composite Amplifier) circuit for DX3pro+, which can provide excellent AC & DC performance and pair with high sensitivity IEMs and power hungry high impedance headphones nicely. And also it provides two gain settings, which greatly expands the range of headphone adaptation.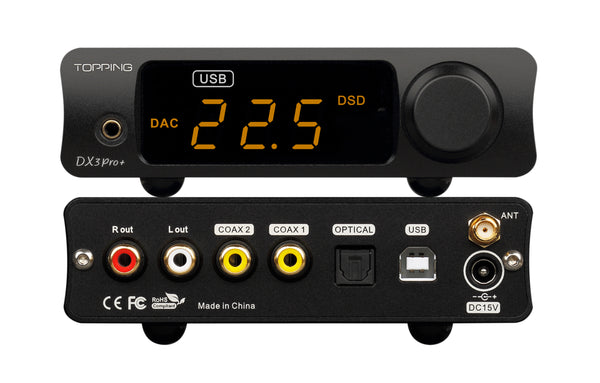 Stacking DX3pro+ with PA3s power amplifier with RCA, they share the same spatial dimensions and easily match. When used with DX3Pro+, the TRS balanced input of PA3s is available to be used with other audio sources input. The output power of 80W X 2@4Q, 10%THD+N, 65W x 2@4Q, 1%THD+N can be adapted to most situations where speakers are used.
Connect the Bluetooth of the phone, tablet or notebook to DX3Pro+, and connect the power amplifier, active speakers or headphones to the DX3Pro+'s output, then DX3Pro+ becomes your Bluetooth Headphone amp I Bluetooth DAC. You can easily enjoy the high quality music and convenience brought by Bluetooth 5.0. If your device supports LDAC transmission, you will get even better experience.
There aren't many products that exhibit one-and-done-ness at this budget range like  the DX3pro+. It could serve as a simple DAC, a pre-amplifier, a headphone amplifier all in one. If you need more information, head on over to the product page of TOPPING DX3pro+ Bluetooth DAC/AMP.