News
SMSL SU-9n ES9038PRO DAC Available Now
by Lauren Young on Oct 14, 2021
SMSL provides another option for the music lovers who don't actively pursue or are not that interested in the MQA function, the SMSL SU-9n. It is an non-MQA version of SU-9, and takes up the excellent base of the SU-9 while with promising further improved sound performance and useful versatile functions. SU-9n is also equipped with the state-of-the-art ESS Sabre ES9038Pro chip but combined with high-performance power supply chip ES9311, which could climb the better performance for the D/A chip.
SU-9n has a total harmonic distortion (THD+N) down to 0.00006%, its signal-to-noise and distortion ratio (SINAD) is at an even 130 dB for XLR. It adopts CK-02 clock processing circuit to achieve ultra-low clock jitter, and with DPLL setting, it could avoid the sound interruption when the clock stability of the input signal is not good. The S.M.S.L SU-9n is carried in our store now and priced at USD 399.99.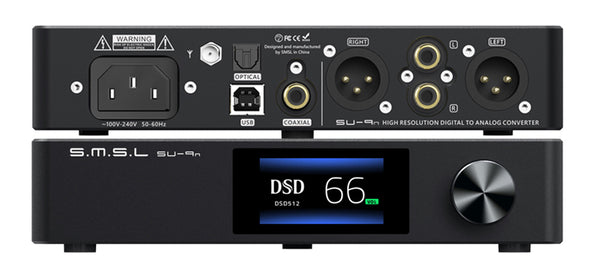 SU-9n is capable of decoding numerous lossless formats that include PCM streams up to 32bit, 768Khz, and native DSD decoding up to DSD512, and all inputs support DSD streaming, including coaxial and optical (DoP64). With the support of Bluetooth 5.0 transmission, supporting LDAC 24bit/96kHz, APTX/HD, SBC, AAC, it is convenient to broadcast your music remotely, directly from a smartphone.
It comes with built-in shielded, low noise power supply processing, while improving power efficiency,lower power consumption, also specially designed discrete component linear regulated power supply and multiple low noise regulated power supplies to provide low noise power for analog circuits.
Having brightness and dimmer settings, you could adjust the light from the 1.9 inch display, so the screen will not be always on when you are not in the mood for the light. Go along and check more details about SU-9n on the product page, and we are open to any question or advice, email us at support@shenzhenaudio.com or find us via live chat.