News
TOPPING LA90 Class AB Power Amplifier
by Wang Shuzeng on Apr 26, 2022
TOPPING unveils its LA90 exceptional performance class AB power amplifier, allowing it to take advantage of outputting high power. The TOPPING LA90 can be configured in a common stereo two-channel mode, or can be configured in a high-power mono mode. In the first case, it is capable of delivering a power of 90Wx2 @4Ω (1% THD+N), 110Wx2@4Ω (10%THD+N); In the second it will be able to provide a power of 180W @8Ω (1% THD+N), 220W @8Ω (10%THD+N). Moreover, the LA90 provides 3 sets of balanced inputs and pre-amp and post-amp options, which are compatible with XLR and TRS interfaces and suitable for stacking/pairing with D90SE, A90, and Pre90. Check the review on LA90 Integrated Amplifier from the Audio Science Review.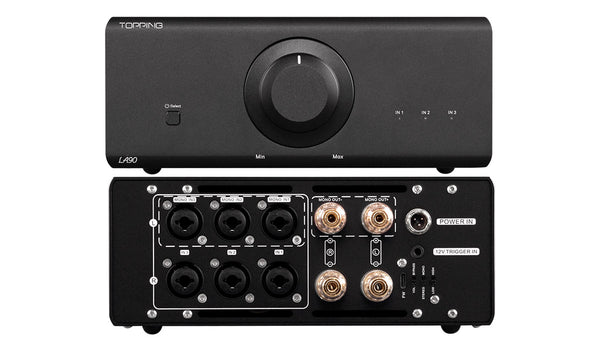 The LA90 adopts a high-precision CNC-machined all-aluminum housing, providing the product with exquisite details and solid protection. The built-in giant heat sink provides reliable and fast heat dissipation for the L A90's amplifier circuit. The shell of the LA90 is the height of the stack of Topping D90se and A90. New LA90 is breaking new ground. It reaches a new level of pristineness and accuracy. The unprecedented level of performance will bring you the absolute amaze on the sound quality. The background doesn't get any darker than this. The sound doesn't get any clearer than this.
You can control the volume on LA90,or set to bypass the volume control of LA90, then you can use a better pre-amplifier for volume control. This is especially useful when synchronizing the volume of two LA90 in mono mode. When used as pure power amplifier, Pre90 The LA90 can be used with the D90SE DAC, which is almost the lowest distortion DAC + amplifier combination. When used as pure power amplifier, Pre90 pre-amplifier is recommended. The Pre90 brings better volume control, remote control, more inputs, and a high-power combination of 1x Pre90 + 2x LA90 can  easily be achieved.


The LA90 maintains low distortion while outputting high power. THD+N of LA90 is 0.00007 %@8Ω10W, 0.00008% @4Ω20W, the specification are as low as an excellent DAC. It means a more accurate reproduction of the music source.The LA90 has a very wide working range with low distortion under load. Even in the commonly used 4Ω load 1W-60W output and 8Ω load 1W-40W output, the LA90 can control the distortion around 0.0001%.
The LA90 provides a combined balanced input connector, the device being able to be connected as well in Jack 6.35mm as in XLR. And it has 2 step gain settings, +6.7dB (Low gain), +19dB (High gain). The LA90 offers a whole new level of performance, revealing incredible accuracy and clarity of reproduction, with linear response and extremely low noise. This device is priced at USD 899, go along and check more details on the product page here, If you need to download the maual of LA90, just click here. And more information please contact our dedicated Support Team via online chat.