News
TOPPING M50 Digital Music Player Now Available
by Lauren Young on Apr 19, 2022
Lots of you have a favorite desktop music player. For some of us, it's the one that plays our music fast, with no fuss or hassle. For others, it's a tool that supports a wide range of music formats, including MP3, WAV, and WMA. Such device retrieves a file from streaming services using Wi-Fi connection, USB drivers, SD cards with ease. Later, this device sends it to the DAC for conversion. TOPPING introduces their first digital player, the M50, which can be played by TF card or U disk, supports multiple formats, and pure digital output: optical fiber, coaxial, USB, Bluetooth, IIS. M50 is designed to be used with D50s decoder, A50s amplifier and P50 linear power supply.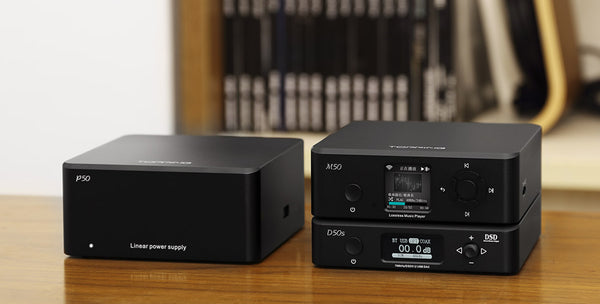 DAPs are a versatile and intuitive solution to enjoy high-quality music when listening to music on your HiFi system in the living room or work desktop. Combined with Hi-Fi headphones or a Bluetooth headset, such music players guarantee quality sound, provided you correctly choose the model that suits you. The TOPPING M50 converts digitized music files into a digital audio signal and outputs like. Pure digital conversion, let the DAC or Bluetooth headphones fully interpret the details of the music.
M50 comes with 4 sets of outputs, including Bluetooth, USB-A, IIS, coaxial and optical, all of which can only be used one at a time. When M50 plays music files from a TF card or Flash disk, you can use the built-in 10-band EQ function to adjust different styles of sound effects. You can also use the EQ function to compensate for headphone curves.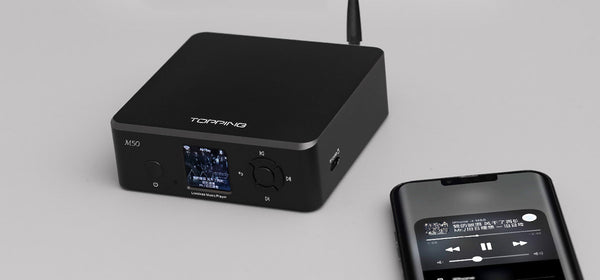 It can also be used as a USB bridge, or Bluetooth bridge/Bluetooth receiver by setting the USB mode of the M50 to DAC and connecting M50's type interface C to a computer, mobile phone tablet OTG, etc. Then the M50 can be used as a USB bridge, supporting up to 24bit/384kHz. After pairing the M50's Bluetooth with mobile phones, tablets, and other devices, the M50 can be used as a Bluetooth bridge, supporting up to 24bit/96kHz.
The M50 could be controlled via the Hiby Link to control on your mobile phone or use remote control, you could sit on the couch and do not have to move along. This player comes with the price tag at USD 229.00, available in our store now. Go along and check more details about the M50 digital music player on the product page, and we are open to any questions or advice, find us via live chat.