News
XDUOO POKE II Portable DAC & Amp Now Available
by Lauren Young on Apr 14, 2022
XDUOO POKE II, the portable decoding amp that we have been waiting for a long time. As the second generation of the POKE series, compared with the original version, it can be said to be a qualitative improvement. It not only carries the high-value appearance design of POKE and the excellent ability to drive earphones but also greatly improves the output performance and adds other practical functions like MQA supported and EQ settings. This Bluetooth portable DAC/AMP device is small enough to fit in your pocket, and has enough power for continuous playback.
XDUOO has been researching the portable audio field for years. They have a mature technical team with professional knowledge background and unique tuning audio method. They have won wide acclaim in China audio industry with their well-known products like the powerful portable amplifier, XD-05 plus and XD-05 bal, or the latest Link2 Bal, a Type-C DAC/AMP dongle.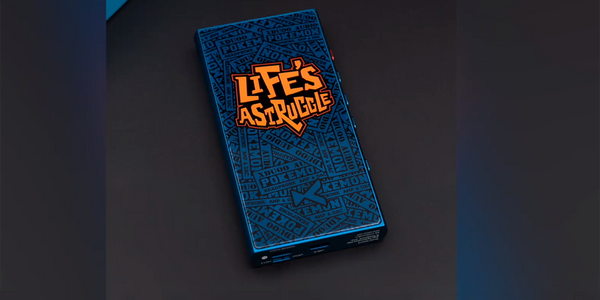 The POKE II is still made of all-metal material, covered with glass on the upper and lower sides, and has a film cover at the factory. There is a 0.91-inch monochrome OLED display at the bottom of the front, which can display information such as power, volume, input source, EQ mode, and file sampling rate. Support USB and Bluetooth dual input mode, USB supports the highest specification of PCM, DXD, DSD and MQA files rendering and decoding supported; The Bluetooth chip is CSR8675, supports BT5.0, aptX Lossless, aptX HD, LDAC and other formats. 
It adopts dual CS43198 decoding chips, equipped with dual-chip active low phase noise crystal oscillator, dual NJW1194 volume adjustment chip, and AD8397 dual-channel operational amplifier. Two DAC chips for each channel have better decoding performance, the balanced circuit could bring high separation, reduce distortion, further improves resolution, and reduces noise floor. The circuit achieves high-fidelity playback of the original audio, allowing you to hear more detail and precise orientation when playing games, watching movies, or listening to music.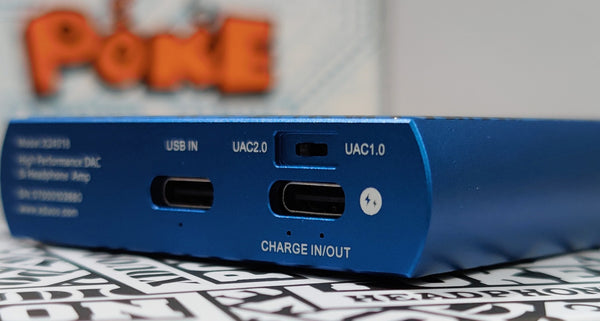 POKE II supports hardware switches for gain, filter, input source, sound effect, Bluetooth, UAC mode, and supports hardware adjustment of volume. In Bluetooth mode, it supports hardware operations to play and pause, supports microphone calls, and supports hardware operations to answer and hang up. It supports 4.4mm balanced and 3.5mm single-ended output. The maximum output of the 4.4mm balanced port is 700mW under a 32Ω load, and the maximum output under 300mW load is 192mW.
Like Link2 Bal, POKE II supports standard UAC 1.0 and 2.0, and has a hardware switch. It is very comfortable to switch on the corresponding mode without re-plugging after shutdown, and it is absolutely civilized. In UAC1.0 mode, it is still perfectly compatible with low-spec USB Audio devices such as Switch and PS5. In addition, the output level of PS5 itself is deficient, and it is indeed necessary to greatly increase the volume of the decoding and amplifying device.