News
TOPPING MX5 Merus Class D Amplifer Now Available
by Lauren Young on Dec 21, 2021
TOPPING has announced their latest one for all multifunctional DAC/AMP, the TOPPING MX5, with the price tag at 299$. It can work as a standalone DAC, preamp or a headphone amplifier through Optical, Coaxial USB and Bluetooth digital inputs. Also could be used as the Class D power amplifier via the fully balanced TRS and single-ended RCA analog inputs. It would be a terrific option if you want a budget, powerful, efficient decoder, headphone amplifier and power amplifier all-in-one option for your HiFi system setup.
MX5 is certificated Hi-Res Audio, it uses ES9018QC decoding chip and 2nd generation 8 core XMOS XU208 for USB input, and dopts newest QCC3031 chipset to support SBC/AAC/APTX LL/APTX HD protocols. These bring excellent performance to the MX5 with USB, optical fiber, coaxial, Bluetooth input, allow the MX5 to easily access a variety of audio sources including computers, set-top boxes, CD players, mobile phones, tablets.
The NFCA circuit in MX5 is optimized for better performance, giving the ultra-low noise and distortion performance. It could easily pair with high sensitivity lEMs and power-hungry high impedance headphones nicely. The built-in headphone amp allows you to enjoy music by yourself without disturbing others.
With the help of Infineon Merus Class D amplifer, MX5 can output 70Wx2 under 4 ohm load 10% distortion, 55W x2 under 4-ohm load 1% distortion. Under 8-ohm load, 10% distortion can output 42Wx2, and 1% distortion can output 35W x2, which can meet daily use.  For analog signals of different strengths, MX5 provides three options of sensitivity to ensure that the signal can be accurately detected, which greatly expand the scope of application.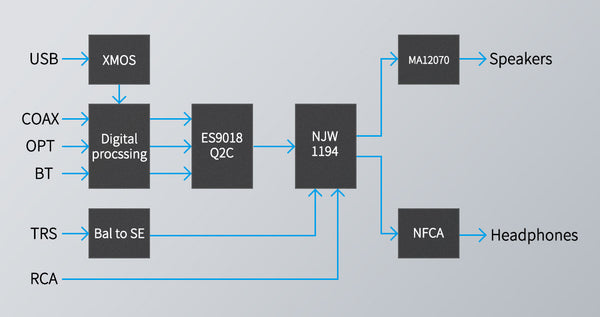 In order to adapt to input signals with different strengths, MX5 provides two step gain settings for both power amplifier and headphone amplifier. The gain can be set on the remote control. MX5 has Built-in EQ function to adjust treble and bass, providing adjustable ranges from -10dB to + 10dB respectively.
Two custom setting memories, C1 and C2, is convenient to switch between different scenes directly. Long press can memorize the current input selection, output selection, volume setting, bass setting, treble setting, and gain setting. And short press to call out in subsequent applications. It greatly facilitates your use.
Auto On/Off function could detect a valid signal then MX5 will be turned on immediately. Go along and check more details on the product page here, there aren't many products that exhibit one-and-done-ness at this budget range like this device. If you need to download the maual and driver of MX5, just click. And more information please contact our dedicated Support Team via online chat or email us at support@shenzhenaudio.com.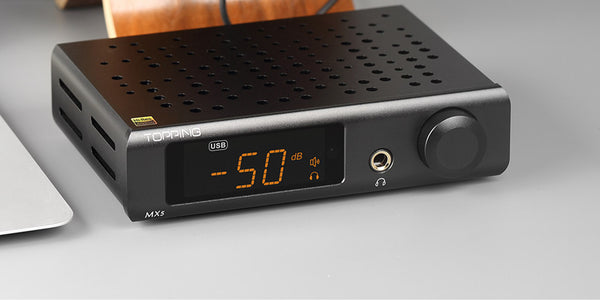 1 comment