News
Moondrop Aria IEMs Special Edition Now Available
by Lauren Young on Mar 01, 2022
We are happy to introduce the special edition of Moondrop Aria IEMs to you guys. It is a collaboration between Moondrop and Moeyu Hatsune Miku, also called Elven Maiden IEMs, comes with the same configuration as the original Aria, and is priced at USD $79.99. It adopts a 10mm diameter dual-cavity magnetic high-performance dynamic driver, and the whole LCP (Liquid Crystal Polymer) liquid crystal diaphragm to bring excellent transient response and high-resolution sound details.
Hatsune Miku, codenamed CV01, was the first Japanese VOCALOID to be both developed and distributed by Crypton Future Media, Inc. Since its release, "Hatsune Miku" has gradually developed into a symbol of participatory creative culture. To this day, content related to Hatsune Miku is constantly being created and shared, with influences all over the world. In addition to being a symbol of a thriving creative culture, Hatsune Miku now performs in concerts around the world.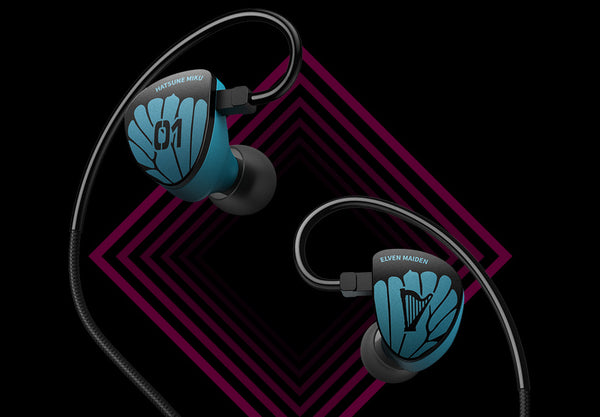 The special edition comes with different faceplates, high-strength metal injection molding CNC fine carving processing, and Hatsune Miku impression color metal spray on the faceplate. It prints the "01" on the left and a harp pattern on the right, ergonomic and elegant design. Moondrop Aria IEMs needs no introduction among the audiophiles, it is accepted as the master class in the budget segment earphones. It targets the Harman curve, makes them sound neutral to most people and this pair is an incredibly good option for the price if you want earphones with a Harman-like tuning.
The "liquid crystal polymer diaphragm" technology Aria is equipped with, brings low impedance and very high sensitivity mean that any source is virtually able to drive them to their fullest potential, including most smartphones and laptops. Aria comes with a detachable silver-plated cable with a nylon fabric braided surface that uses the 2 - pin 0.78mm interface. The plugs at both ends are of good quality but the cable itself tangles a lot and the exterior fabric is prone to fray.
This edition is available for pre-sale now, ends on March 7th, and we will dispatch the orders as a sequence. And we also need to let you know that it is limited quantity, if you are interested in it, go along and check more details on the product page of the Aria special edition here. As always, all the purchasing from us comes with a 30-Day Lowest Price Guarantee, 30-Day No Reason Return, 7 Days DOA Product Guarantee, and Global Free Shipping. You could contact us via live chat online or email us at support@shenzhenaudio.com.