News
Moondrop CHU Dynamic Driver IEMs Now Available
by Lauren Young on Apr 08, 2022
Moondrop provides another option in entry level IEMs category, meet the Moondrop CHU 10mm Dynamic Driver IEMs, with the affordable price tag at USD 19.99. For over three years, the Moondrop Spaceship received rapturous near-universal praise for its light design, comfortable fit, and superb sound performance. As a worthy successor to the Spaceship, the Chu has adopted a completely different design  concept, a more traditional Chinese styling, and significantly upgraded acoustic architecture.
It adopts decentralized dynamic structure from the Aria, the high-performance 10mm composite cavity with high-frequency phased waveguide leverages a N52 Nd magnet internal magnetic circuit and 0.035m ultra-thin imported CCAW sound coil to obtain high energy conversion efficiency, and deliver outstanding performance with full dynamic range and rich details. The diaphragm utilizes PVD (Physical Vapor Deposition) technology,  which could improves the rigidity of the diaphragm, ensures excellent damping, and results in better treble extension and detail.
The MOONROP VDSF Target Response is a parametric target and sound quality is controlled by composite elements, thus restoring the sound quality to mastering levels, and creating an open soundstage with the characteristics of a diffusion-tuned space. In order to match the frequency response of Chu as closely as possible to the VDSF Target Response, the acoustic coupling cavity needs to be carefully controlled. Through volume and dimension calculation, FEA finite element simulation and 3D printing experiment verification, an acoustic coupling cavity has been created which can accurately reproduce the ideal frequency response.
Chu produces an excellent frequency response curve in line with the VDSF Target Response. This outstanding frequency response curve gives Chu the ability to faithfully reproduce the sound heard by the sound engineer when making recordings. Compared with other earphones, Chu is able to more truly reveal the original timbre and position of musical instruments and vocals. It not only delivers a more open and natural listening experience, but also meets the needs of recording and mixing professionals.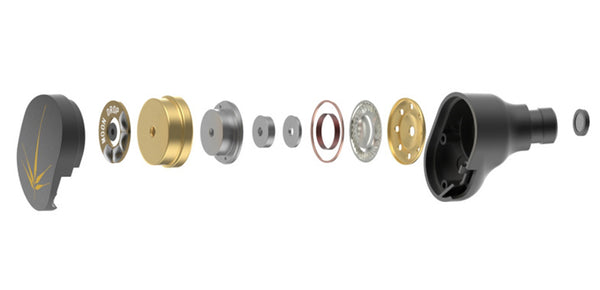 Specifications:
Driver: 10mm high-performance dynamic driver
Diaphragm material: Titanium-coated
Sound coil: 0.035mm ultra-fine black CCAW
Magnetic circuit: N52 neodymium magnetic high-performance internal magnetic circuit
Sensitivity: 120dB/Vrms @1KHz)
Impedance: 28Ω±15% (@1khz)
THD: THD@1KHz≤1%
Frequency range: 10Hz-35kHz (IEC61094, Free Field)
Effective frequency response: 20Hz-20kHz (IEC60318-4, -3dB)
Chu comes standard with the popular Spring Tips eartips, which suppress undesirable resonance through a special diffusion structure, significantly reducing high-frequency linear distortion caused by nozzle resonance, and optimizing natural high-frequency timbre. This pair is a really comfortable IEMs, which you can wear for entire days without noticing. And if the tips don't fit, you can always change either tips. Head on over to the MOONDROP CHU product page, and if you need more info please contact our support team via live chat.