News
SMSL D300 Rohm BD34301EKV Audio DAC
by Lauren Young on Nov 16, 2021
SMS brought out the latest desktop audio decoder, the SMSL D300, equipped with Rohm's flagship DAC chip BD34301EKV, launched for USD 399.99. ROHM audio IC pursues both the numerical values and sound quality performance required in an audio device to the utmost limits. BD34301EKV D/A chip is the masterpiece of 32-bit high sound quality Stereo Audio D/A converter with ROHM original sound quality design.
The D300 is fully optimize the performance to make its THD+N as low as -116dB. It enables high-resolution signal decoding with ultimate precision and quality. S.M.S.L has paired this flagship DAC chip with XMOS XU208 an 8-core USB processor that enables high-res 32-bit/768kHz PCM and native DSD512 decoding with the device over the USB connection.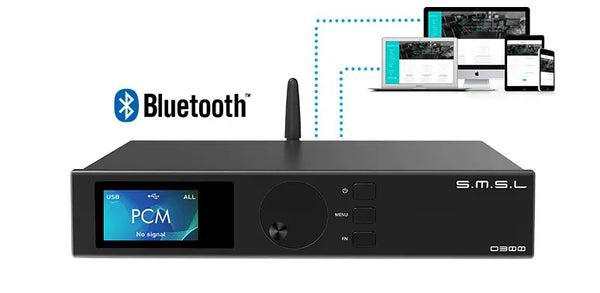 SMSL also has featured a new CK-03 clock processing circuit, it provides an ultra-low jitter for all the interfaces including USB, Coaxial, and Optical. This effectively improves the output signal quality from the DAC bringing you close to true and pure sound output.
D300 uses Qualcomm's latest Bluetooth chip providing support for high-resolution Bluetooth signal input. The device features all the latest wireless transmission codecs including LDAC, AptX HD, AptX, AAC, and SBC. LDAC transmission allows for high-resolution 24-Bit/96kHz streaming over wireless Bluetooth connection.
S.M.S.L has designed a special discrete component stabilized power supply. It provides noise-free operation ensuring each component on the analog and digital circuits receives proper power. It is optimized for better efficiency with lower power consumption. To protect the power supply from any outside interferences, S.M.S.L has given it a properly shielded structure.
Favorite sound settings is selectable from D300, by switching 2 kinds of digital PCM filters, Sharp Roll-Off or Slow Roll-Off. And 3 options of DSD filters, 13k Cutoff, 26k Cutoff or 52k Cutoff. There is also HPC mode with enable or disable. Check more details in the D300 manual from here.
It is available in our store now, head on over to the product page of SMSL D300 desktop audio decoder, as always, all the purchasing from us comes with 30-Day Lowest Price Guarantee, 30-Day No Reason Return, 7 Days DOA Product Guarantee and Global Free Shipping. You could contact us via live chat online or email us at support@shenzhenaudio.com.