News
TOPPING U90 USB Bridge Available Now
by Lauren Young on Nov 09, 2021
TOPPING has released their first professional-grade USB interface, TOPPING U90, which allows computers to output high-quality digital signals so that users can use better DACs to obtain better sound quality. An audio interface is pretty much an essential piece of kit for your studio setup, taking things back to basics, the best audio interfaces enable you to get high-quality audio in and out of your PC, and to connect other essential studio gear and instruments during your recording sessions.
TOPPING U90 has a total of 1x IIS, 2x AES, 2x OPT, 2x COAX, a total of 7 outputs, compatible with domestic HiFi setup and industrial devices applications. The U90 shares the same appearance and dimension with that of D90SE MQA DAC, Pre90 Preamplifier and A90 Headphone amplifier, try match and stack and start creating different combos.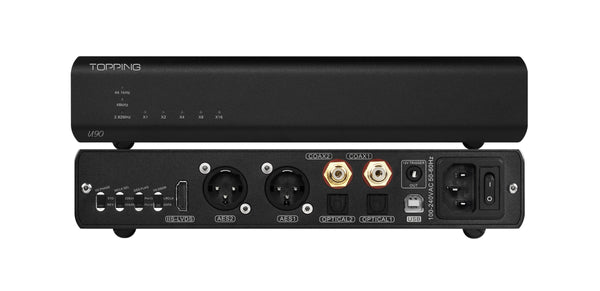 With four sets of IIS controller switches, you can choose pin definitions for IIS phase, MCLK, DSD flag, and IIS DSDR, which can be compatible with most other brands of IIS definitions through reasonable settings easier. It is worth mentioning that the U90 defines a mute pin in IIS transmission. When used withTOPPING DACs, it can greatly reduce pop noise when switching the sampling rate. Also, the built-in USB isolation can effectively eliminate the noise introduced by the ground loop.
U90 uses a femtosecond crystal oscillator and CPLD to process the clock and optimize the digital signal, achieving incredible jtter suppression. And it also provides a 12V level-triggering interface. When used with other devices with 12V Trigger interface, U90 can be used to control other devices to turn on and off. It greatly facilitates the use.
The U90 supports up to PCM 32bit/768kHz and DSD512 Native with IIS connection. It is available in our store for USD599 now, head on over to the product page of this high performance USB audio interface, as always, all the purchasing from us comes with 30-Day Lowest Price Guarantee, 30-Day No Reason Return, 7 Days DOA Product Guarantee and Global Free Shipping. You could contact us via live chat online or email us at support@shenzhenaudio.com.